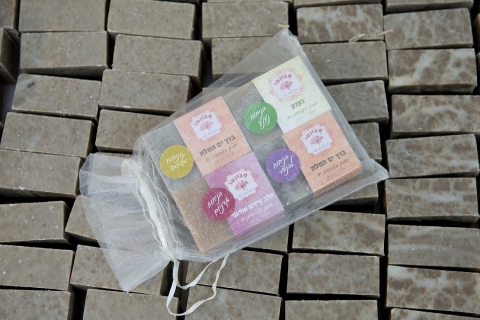 Saboneto is a family owned business located in Kochav Hashacar, in the Binyamin region in Judea and Samaria.
Before starting the Saboneto soap company, Shlomo Keshet worked at for an Israeli olive oil company. It was there that he began learning about the amazing benefits and qualities of olive oil.
Combining his newfound passion for olive oil, and his dream of working the land of Israel, Keshet planted his own olive tree orchard. In addition to sincere desire to work the land, Keshet also has a passion for cooking, and it wasn't long before he decided to combine his two favorite pastimes.
After the first olive harvest, Shlomo got to work making natural healthy soaps, combined with his fresh olive oil. He began experimenting with different recipes, plants and natural oils. The results were amazing, as the beautiful fragrances started wafting through the neighborhood.
Shlomo worked day and night, coming up with different formulas, testing out a variety of plants, and mixing in oils to come up with the perfect soaps. One of his ideas was to use the famed Dead Sea salts and muds in the soap making process.
The benefits of the Dead Sea products are well documented, and the Saboneto Dead Sea soaps are no exception. They are rich in minerals, which do an amazing job cleaning out the pores and revitalizing the skin.

Another wonderful benefit of the Dead Sea soaps is that they increase the blood flow, which can slow down the aging process. Combined with the fragrant oils and plants this line of Saboneto soaps does more than just clean your skin, it will rejuvenate it while providing you with beautifying treatments.
If you're ever looking to find the perfect gift for someone, or even just to pamper yourself, Saboneto soap is the way to go. You can get an amazing deal on a 4 pack of natural high quality soaps. Choose from a variety of fragrances including: Lemongrass, Cinnamon Peel and Mint. The Dead Sea Mud collection includes the following scents: rosemary, lavender, Melissa and geranium. Saboneto also makes a geranium scented organic goat milk soap.
All of the soaps that come from Saboneto are handmade and only made of all natural ingredients. There is no SLS or any other kinds of poison that are commonly found in soaps.
Keshet uses a variety of natural oils, shea butter, Dead Sea mud and salt in all of their soaps. The soaps are prepared at 35 degrees Celsius so that they retain all of the healthful benefits that come from the ingredients.
One of the most beautiful things about Sabaneto is how they provide employment for people with special needs. Shlomo's son, who has Down Syndrome, always wanted to work in the family business, and so Shlomo put him to work in the factory, wrapping the soaps. It wasn't long before they brought in some of their sons friends to join in, and together they wrap the soaps with love.