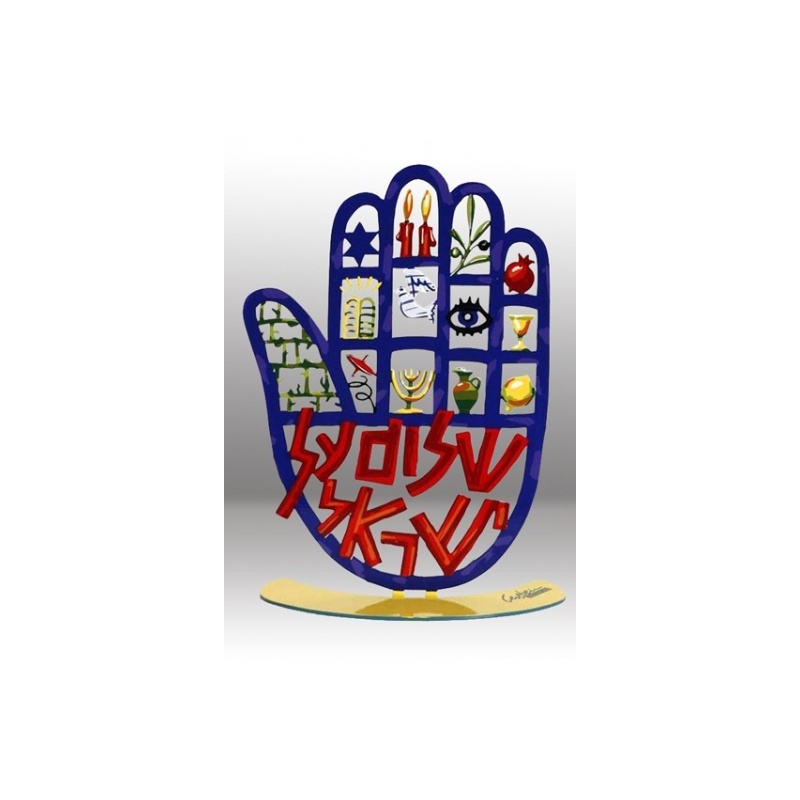 David Gerstein is a brand name in Israel and he is considered a popular Israeli artist. His work can be found in homes and galleries around the world. He is famous for designing a playground in Jerusalem, and his sculptures dot the landscape of the country, beautifying cities all over Israel.
Gerstein was born in Jerusalem in 1944 and moved to a suburb of Tel Aviv when he was 4 years old. From an early age it was apparent that Gerstein had a real artistic gift. He was encouraged by his teachers to seriously study painting,
Following the advice of his teachers, David took classes at the Beit Zvi Art Center in Ramat Gan. Throughout the summers of his teenage years, he attended an art camp in Jerusalem.
After completing his army service Gerstein attended the Betzalel Academy of Arts and Design in Jerusalem. After a few years at Betzalel, Gerstein headed to Paris where he studied at the École Nationale Supérieure des Beaux-Arts for two years. From there he moved to New York where he took classes at the Art Students League.
At the age of 26 Gerstein returned to Israel where he began teaching at Betzael, both in drawing and in the fine arts department. After a few years at Betzalel Gerstein earned his Master's degree in graphic arts from Saint Martin's School of Art in London.
Evidently, Gerstein's artistic talents extend to multiple mediums. A renaissance man, Gerstein can do a little bit of everything. He's illustrated children's books, he excels at multiple styles of painting and creates sculptures using all different kinds of materials. He enjoys using bright vibrant colors in an attempt to "copy nature". Gerstein explains "brightly colored fruit or flower in nature attracts insects". So too, his work was intended to be attractive the observer.

Growing up in Israel, Gerstein was inspired by his surroundings and many of his creations include motifs and symbols from Israel and Judaism. The Hamsa Shalom Al Yisrael, or Hamsa of Peace, is a perfect example of this.
This brightly colored sculpture is laser cut from steel in the shape of a Hamsa. Its fingers are full of Jewish symbols, such as the Western Wall, an olive branch, the evil eye, pomegranates a menorah and several other iconic symbols. In the palm of the hand is a Hebrew sentence that translates to "Peace Upon Israel".
Another popular steel sculpture that Gerstein created is the Lion of Judah. It features a lion watching over the city of Jerusalem, protecting it from anyone who wishes to harm its inhabitants.
Both of these sculptures were designed using a technique called serigraph, also known as silk screen, where each color is printed separately.
Perhaps Gerstein's most impressive sculpture is called "Momentum" which is 18 meters high and weighs over 44 tons. Momentum is located in the heart of the business district in Singapore, and is the tallest structure in that country.
Though Gerstein is one of the most popular artists in Israel and in high demand, and has had exhibitions all over the world, he doesn't see himself as a inaccessible artist, and likes to create work that is simple and affordable. His art and sculpture make beautiful gifts, whether it's for a wedding, a house warming gift or an anniversary present or any other special occasion.