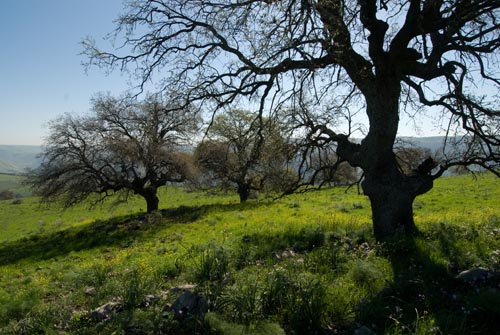 Cheshvan does not have any holidays. It is known for the month that King Solomon completed the seven year building of the sanctuary, but it was not celebrated until 11 months later. It is also the month in which the matriarch Rachel died giving birth to Benjamin. It is the month in which the rains started to fall in Noah's time and the Lord told them to enter into the ark and then the Lord shut the door behind them.
In modern times, there has been such suffering for the Jewish people in this month that it became known as Mar Cheshvan. Mar means bitter but also means drop which refers to the first rains that fall in this month. This month is gifted with a two day Rosh Chodesh (beginning of the month) that helps to make a month which can be bitter sweet.
Following the renewal that has occurred in the last month, Cheshvan allows us to begin to see things in a new way and engage in those things that may have once challenged us in the past season. This also coincides with the tribe of this month, Manasseh. Manasseh is the firstborn of Joseph and the brother of Ephraim. His name derives from the word "to forget," literally meaning, "to leap, up and away." In Gen 41:5, "Joseph called the name of the firstborn Manasseh. 'For,' he said, 'God has made me forget all my hardship and all my father's house.' "
In Deuteronomy 33 we have the blessings of Moses over the tribes. Starting in verse 13 he begins to bless Joseph and ends in verse 17. Joseph received the largest blessing over all his brothers and the blessing of Joseph also includes Manasseh and Ephraim. The blessing given to this tribe is of great plenty and great power!
Deu 33:13-16, ":13 Moses said this about the tribes of Joseph: 'May their land be blessed by the LORD with the choice gift of rain from the heavens, and water from beneath the earth; :14 with the riches that grow in the sun, and the bounty produced each month; :15 with the finest crops of the ancient mountains, and the abundance from the everlasting hills; :16 with the best gifts of the earth and its fullness, and the favor of the one who appeared in the burning bush. May these blessings rest on Joseph's head, upon the crown of the head of him who was separate and prince among his brothers.'"
As you can see clearly here that the blessing of abundance and plenty was of every earthly and heavenly blessing Mosses could imagine. He declares and prophesies that his land will be blessed of the Lord. Then in verse 16 he goes on to prophesy favor of the one who appeared in the burning bush. It was at the bush that God declared himself the God of Abraham, Isaac and Jacob, and so confirmed the promise made to the fathers and here in this blessing recalling and renewing that covenant. Here lies a key to great plenty: 1) Look to the Lord, He will give you favor and 2) Remember the covenant (promises) He gave you. He also asks that "these blessings rest on the crown of the head of him who was separate and prince among his brothers." His brothers separated him from themselves by selling him into slavery, but God separated him by making him prince.
Deuteronomy 33:17, "Joseph has the strength and majesty of a young bull; his power (and glory) is like the horns of a wild ox. He will gore distant nations, driving them to the ends of the earth. This is my blessing for the multitudes of Ephraim and the thousands of Manasseh."

This second portion of the blessing is for great power. Joshua was from the tribe of Ephraim and Gideon was from the tribe of Manasseh. As you may already know both of these men were valiant men who went to battle for the Lord and reigned victoriously. In many different scriptures in the bible, Joshua 17:17-18; 1 Chronicles 5:18-20; Judges 6; and Psalm 80 to name a few, we read about the great power of the tribe of Joseph, Ephraim and Manasseh. In 1 Chronicles 5:18-20 it says that these tribes consisted of valiant men, men who bore shield and sword and shot with bow and were skillful in battle and that they cried out to God in battle, and He answered their prayers because they trusted in Him. Here lies a key to having great power: 1) Trust in the Lord and 2) Cry out to Him in battle for He will answer.
Even the particular pieces of land given to the tribe of Manasseh were very strategic places. Megiddo was a site of great importance then and is still now. It guarded an ancient trade route which connected the lands of Egypt and Assyria. Today it connects the center of Israel with lower Galilee and the northern region. Throughout history there have been many battles fought on and over this piece of land. Mount Carmel overlooks this plain and we know that area to be the place where Elijah called down fire from Heaven as he defeated the prophets of Baal.
Another piece of land given to Manasseh was Golan. Today we hear much about Golan Heights. It is a very strategic place for Israel even today. When I visited Israel last year, I stood on top of a mountain in Golan Heights and was clearly able to see why it was so strategic. From this one spot I could turn to my right and see Syria and then to my left and see Lebanon. The borders of both these countries were not too far away, for Israel to give up this land would mean more than just giving up ground it would be entrapment for the country and it would take away their eyes from seeing what the enemy is doing.
Gilead is also another area that Manasseh was given as an inheritance. King David fled to a place in Gilead for refuge when he was hiding from Absalom. Elijah the prophet was born in Gilead. Another thing Gilead is well known for is the balm of Gilead. This balm is known because of its healing power.
In this month of Chesvan we can see that it is a time to fully enter into all the Lord has for us in this season. We are to hear His invitation to enter in and let Him shut the door behind us. As we move forward, we will press past all of our trails and hardships forgetting those things of our former years and looking to the Lord for the promise of our inheritance. As we learned from Manasseh, Lord has placed us in a strategic position in this moment of time to secure our inheritance by not allowing the enemy to take territory but to be prepared for the battle and follow through to the end.
Pray for discernment and a greater level of spiritual warfare as we enter this season. In a year of Ayin, the eye, let us see into new dimensions of what the Lord wants to show us. I feel as if the Lord is calling us higher in our spiritual battles wanting to give us strategies so that not only are we building a wall to be a shield from the attacks of the enemy, but to place us in a position in which we understand the enemies schemes so much so that we can come up behind him to disable him from attacking at all. Let us be valiant men and women who bear a shield of faith that nothing can penetrate, but also be skillful in battle with a sword and with a strategy. Above all let us trust in the Lord and cry out to Him for all that is needed to win. Scripture says that he (the enemy) is under our feet, well let's start acting like it! The full restoration of believers understanding that we were made in the image of God will enable us to walk in the glory, power, and holiness like never before.
The Land given to Manasseh is not only a land of battle and Manasseh is not only a tribe of power but it is a land of healing and refuge and they are a tribe of plenty. Let us pray for favor of the one who appeared in the burning bush and remember the covenant that was made between us and the great I Am. I am yours and you are mine.
Psalm 80:1 – 19, "Give ear, O Shepherd of Israel, thou that leadest Joseph like a flock; thou that dwellest [between] the cherubims, shine forth. Before Ephraim and Benjamin and Manasseh stir up thy strength, and come [and] save us. Turn us again, O God, and cause thy face to shine; and we shall be saved. O LORD God of hosts, how long wilt thou be angry against the prayer of thy people? Thou feedest them with the bread of tears; and givest them tears to drink in great measure. Thou makest us a strife unto our neighbours: and our enemies laugh among themselves. Turn us again, O God of hosts, and cause thy face to shine; and we shall be saved. Thou hast brought a vine out of Egypt: thou hast cast out the heathen, and planted it. Thou preparedst [room] before it, and didst cause it to take deep root, and it filled the land. The hills were covered with the shadow of it, and the boughs thereof [were like] the goodly cedars. She sent out her boughs unto the sea, and her branches unto the river. Why hast thou [then] broken down her hedges, so that all they which pass by the way do pluck her? The boar out of the wood doth waste it, and the wild beast of the field doth devour it. Return, we beseech thee, O God of hosts: look down from heaven, and behold, and visit this vine; And the vineyard which thy right hand hath planted, and the branch [that] thou madest strong for thyself.[It is] burned with fire, [it is] cut down: they perish at the rebuke of thy countenance. Let thy hand be upon the man of thy right hand, upon the son of man [whom] thou madest strong for thyself. So will not we go back from thee: quicken us, and we will call upon thy name. Turn us again, O LORD God of hosts, cause thy face to shine; and we shall be saved."
Rev. Jaime Lynn Fusco, the Founder of The Wings of Destiny, is the Israel Government Ministry of Tourism's Director of Christian Relations for North America. She has worked with multiple ministries and organizations over the years including: Billy Graham Robert Stearns and Eagles' Wings, Matt Sorger, Concerts of Prayer, NYC Intercessors, Christians United For Israel (CUFI), ZOA, Clarion Fund, Stand With Us, HRCARI, The Center for Jewish-Christian Understanding and Cooperation (CJCUC) in Efrat, Scholars for Peace in the Middle East, and many others.