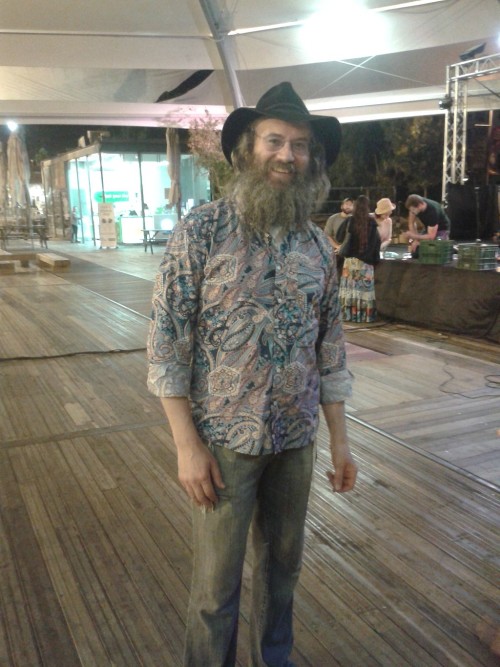 Musician Lazer Lloyd has created a genre all his own. An Orthodox Jew living in Israel midway between Jerusalem and Tel Aviv, he is affectionately known worldwide as the "blues guy from Israel".
In June 2015, Lloyd released his well-received CD, "Lazer Lloyd". A compilation of 12 tracks, 11 of which are original compositions and the twelfth, a soulful rendition of Otis Redding's "(Sittin' On) The Dock of the Bay".
The "Lazer Lloyd" CD was in the top 3 on the RMR blues rock chart the entire summer, holding in the top 10 through 2015, and peaked at #4 on the RMR blues chart. Listeners are amazed by Lloyd's powerful and intense guitar work, strong vocals, and the positive messages which are at the heart of all his songs.  
Born in New York and raised in Connecticut, from a young age Lloyd was introduced to jazz and blues through his father's record collection and family trips to jazz festivals and concerts. With his early exposure to guitar greats including Santana and Stevie Ray Vaughan, Lloyd was playing lead guitar in a rock band at the tender age of 15.
As a music major at Skidmore College, he began singing and writing songs. He was a music student with some of the greatest musicians of his time, including Ellington's bassist Milt Hinton and Blood, Sweat & Tears band member Randy Brecker. His major musical influences include BB King, Bob Dylan, Jimi Hendrix, Johnny Winter and Middle Eastern oud.

Following a gig with "The Singing Rabbi" Shlomo Carlebach, Carlebach invited him to spend time in Israel. Taking the Rabbi up on his invitation caused a relocation of both his body and soul to the Holy Land.
Already recognized throughout Israel for his unique blend of blues, rock and soul, Lloyd is quickly becoming a well-known and respected musician throughout the world, performing over 100 shows last year. "I literally perform for every type of crowd," he told Israel365. "Blues, roots rock, folk, it's real: it's about everyone's life story and it heals."
The healing Lloyd refers comes from his desire to unite people through his music. "I firmly believe that even if our beliefs are not the same, we can all respect each other and learn from each other. I think we need musical and cultural bridges between people, and that's what I try to do."
This trailblazing songwriter and performer succeeds at his task through sharing original and somewhat daring compositions with his audience. His song, "X-Mas Blues" has already garnered well over 410,000 views on Facebook. This song, which came out after "Lazer Lloyd" was produced, is a relatable ballad for anyone challenged by the commercialism of the holiday season.
The "Lazer Lloyd" CD puts a smile on anyone's face who appreciates soulful, heartfelt lyrics, solid tunes and high quality instrumentals. It will strike a chord with anyone yearning for a better world through the magic of music.