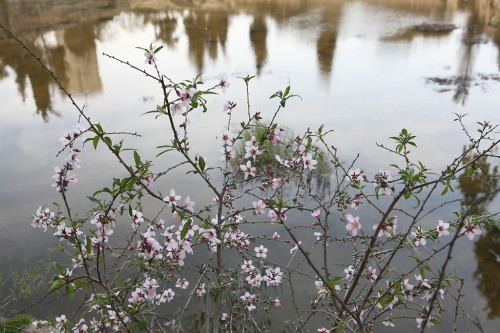 This week marks a significant date in the Jewish agricultural calendar, but for most of us city-dwellers, it would have gone unnoticed if not for the Jewish people's undying connection to the Land of Israel.
According to Jewish tradition, there are four "new years" in the calendar: the new year for the world, the new year for kings, the new year for animals and the new year for trees.  The date of the latter is disputed in rabbinic writings, but the final conclusion puts it on the fifteenth day of the Hebrew month of Shvat.  
It is the date that marks the beginning of the agricultural tax year; from this point forward, produce grown is considered part of the following year's crop. This has implications for a variety of agricultural laws, including the separation of tithes and the age of trees.
This minor holiday (it has no binding laws or observances) was mostly unsung until the 16th century, when kabbalists in the northern Israeli city of Safed instituted the tradition of a Seder Tu B'Shvat, a ritual meal modelled after the Passover meal, in which the Jewish connection to God and the Land of Israel is celebrated by eating a variety of produce.  It features the seven traditional species of the Land of Israel (wheat, barley, grapes, figs, pomegranates, olives and dates), as well as other symbolic fruits.
In 1892, writer, researcher and historian Zeev Yavetz, principal of the Zichron Yaakov school, took his students to plant trees on Tu B'Shvat, and a new tradition was born.  According to its website, the Jewish National Fund (KKL-JNF), along with the Teachers' Union, "formalized the custom in 1908, and provided it with an extra educational dimension."  
Worldwide, Jewish children today associate Tu B'Shvat with two things, mainly: eating dried fruit (once the only kind of Israeli fruit available in the diaspora) and sending money to Israel to plant new trees.  Thanks to this active tradition, Israel is one of the only countries in the world which ended the last century with more trees than it started, an impressive feat considering they were all hand-planted.
You, too, can plant a tree in Israel. Click here to find out how.