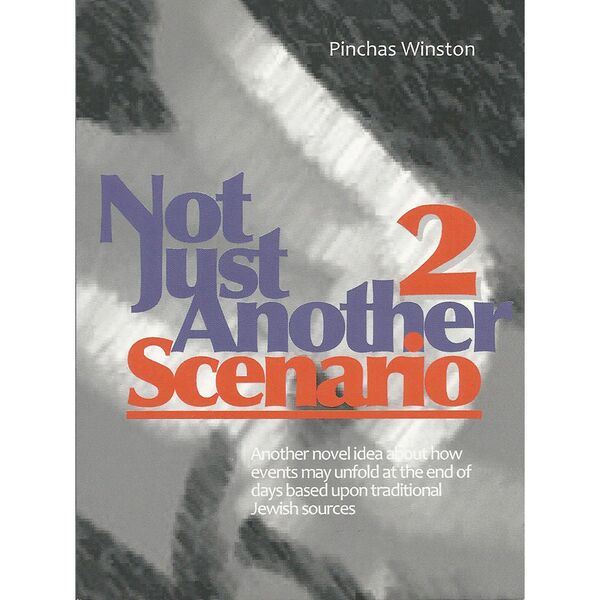 Rabbi Pinchas Winston, Torah scholar, teacher and author of Survival Guide for the End Of Days among dozens of other books, many with End of Days themes, took a departure from his usual writing style to compose Not Just Another Scenario 2. In Not Just Another Scenario 2, Winston combines his prodigious knowledge of Jewish texts with his creative mind to construct a novel about the events at the End of Days.
Although it's based on Jewish sources, the 350-page, chunky paperback gently invites all readers into a possible scenario for the End of Days. When the novel opens, the entire world has its guns pointed toward tiny Israel. The War of Gog and Magog, as prophesied in the Book of Ezekiel, is about to take place.
Woven into the text of the novel, you'll meet the character who is raised from oblivion to become the Messiah. Winston demonstrates how miracles, wrought by God through the hand of the Redeemer, save the Land of Israel against unimaginable odds. He describes the panic felt by Jews in the Diaspora and reveals the fate of non-believers.

The destiny of Iran and its threats to annihilate the "Zionist regime" and wipe the Jewish State off the map, the fate of the UN and its member countries and the future of the mosques on the Temple Mount are all presented in realistic terms. Toward the end of the novel, the Messiah gives a dramatic speech, using modern forms of communication with which we are already familiar, to alert the world that the Messianic Era has arrived.
One element that Winston captures dramatically in this novel is the press of time. It may have taken human history thousands of years to get to the End of Days, but once the time arrives, events move very quickly.
The book is written in straightforward English. On occasion, when Winston uses a Hebrew term or mentions a Jewish historical figure or Biblical passage, he offers footnotes to aid in understanding or locating the Biblical passage.
Not Just Another Scenario 2 was written to help readers match Biblical prophecy to the world in which we live. It mentions current events and offers a plausible scenario for how easily they can lead to the Messianic Era. In his introductory material, Winston informs his readers that he intended not merely to entertain, but to inspire readers to anticipate and yearn for the Redemption.
Whether it's difficult or easy for you to imagine how the political chaos in the world might lead to the fulfillment of End of Days prophecies, if you want to be inspired by an authentic Jewish perspective, don't miss Not Just Another Scenario 2.
To get your copy now, click here.