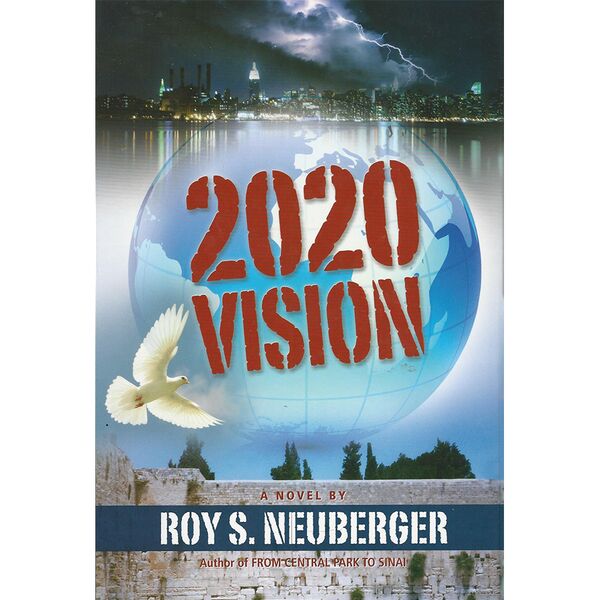 Can you imagine yourself caught up in an apocalyptic drama? In Roy Neuberger's compulsively readable novel 2020 Vision, the world doesn't turn into the 1979 movie Mad Max. Instead, on an ordinary summer day, July 5, 2020, in a matter of moments, the world ceases to function normally. No electricity. No radio broadcasts. No computer access. No phone service. No police or emergency workers. Just an electromagnetic bomb, part of a coordinated series of terror attacks on the United States, that wipes out civilized life as we know it.
That's the premise of 2020 Vision. Neuberger writes an apocalyptic novel that is startlingly realistic.The main characters are Neuberger himself and his wife Leah, and the story includes lots of true details, such as familiar cities, landmarks and autobiographical flashbacks.
When the world goes dark, Roy and Leah take decisive action, heading out on bicycles from their home on Long Island. Their first challenge is to make it off Long Island and onto the mainland, a simple task when bridges are open, but not so simple when the world as we know it is coming to an end.
Although 2020 Vision is a novel about a frightening and dangerous time we hope to never have to face, there is something about Neuberger's style that makes the story completely plausible. For example, as events unfold, the Neubergers connect with other Jewish survivors on the road, including some of their own children and grandchildren. There is an entire chapter about how Neuberger set his sights on his wife's uncle's kosher candy factory, realizing that chocolate and dried fruit and nuts were perfect for sustaining their group.

Despite the fact that 2020 Vision is a very Jewish story, it's accessible to all readers. All Hebrew terms are translated and there is a character named Jeff with a limited Jewish education. As the story progresses, Neuberger explains basic Jewish concepts to Jeff. These explanations are also helpful to readers who are less familiar with Judaism. The novel is also sprinkled with inspiring Biblical quotes.
Life in the entirety of North America has become too perilous for Jews to remain there. Multiple incidents of anti-Semitism, unleashed by chaos and the utter breakdown of the society, make it clear that there can be only one ultimate destination.
The most important and audacious plot line is Neuberger's plan to get the his group of approximately 100 Jews to safety in the Land of Israel. In order to accomplish this goal, the entire group has to get from New Jersey to Portland, Maine, where Neuberger hopes to find a ship to carry the group across the ocean to the Holy Land. Not so simple when you recall that even the largest, most expensive vehicle is only as good as its last drops of gasoline.
There are bad guys and close calls and times when the traveling band of religious Jews has to face life-threatening circumstances. At the same time, the novel is neither graphic nor salacious. There are also miracles and salvation from surprising quarters. 2020 Vision is an End of Days scenario that is appropriate for religious readers of all faith traditions.
Click here to get your copy now!