The sacramental blessing over wine on the Jewish Sabbath is fundamentally what sanctifies the day, turning an ordinary Saturday into the Jewish holy Sabbath. Routinely, the wine for that blessing is contained in a beautiful cup that honors the moment of sanctification and allows people to reflect on the day of rest and God's creation of the world. Ideally, that pause for reflection will accompany the Kiddush prayer.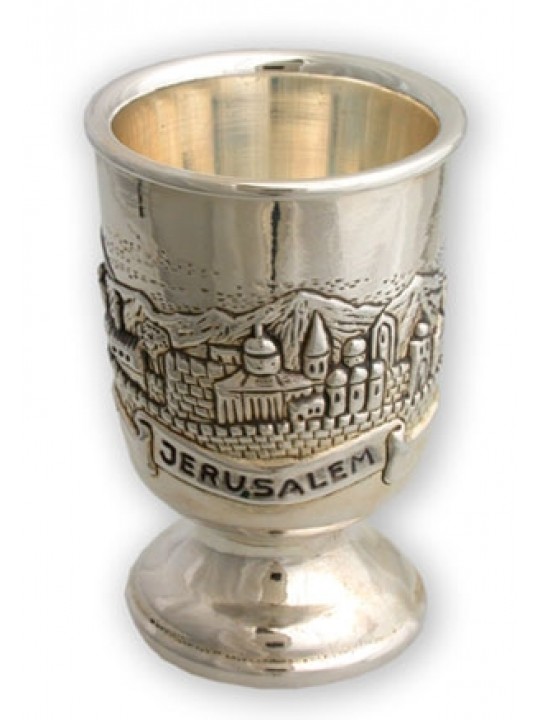 This Kiddush cup, made of sterling silver (marked 925) by Caspi Silver, with electroforming, represents the many elegant products put out by the company. In general, Caspi Silver offers a range of high quality items, from Judeo-Christian artifacts to jewelry to figurines, museum replicas, and all kinds of gifts for every occasion, whether Mother's Day or college graduation or a wedding.  Caspi Silver is located in Netanya, Israel and is made up of a team of in-house artists who are tasked with creating new, beautiful items to fulfill clients' preferences, including pitching dazzling design ideas to which clients may not have conceived of on their own. This Kiddush cup is one such option.
According to the Sages, nearly any material can be used to craft a Kiddush cup, as long as the cup that results is a dignified item that brings honor to the cup's contents and its purpose for the day (a disposable plastic cup, for example, would be frowned upon). However, there are several instances in the Torah, where silver cups or chalices are alluded to in a significant context. One that comes to mind is the biblical narrative of Joseph. When Joseph is acting as a High Counsellor in Egypt, he uses his silver chalice, in a plot to test his brothers' virtue. Silver cups are then continually associated with elevated status, honor, and beauty.

Traditionally, many Kiddush cups have been made from silver. What makes this particular cup unusual, rather, is the scenic skyline of the holy city of Jerusalem that adorns the body of the vessel. Intricately designed by artists, attention to detail makes this Jerusalem motif a cut above the others. Mimicking the hilly terrain, the designs undulates around the circumference of the cup and adorns the whole surface with the Jerusalem vistas.
In addition to the skyline itself, the word "Jerusalem" appears in both Hebrew and English, once on each opposite side of the cup, lest anyone who handles the cup be left in doubt. The goblet itself is an unusual way to bring a little piece of the Holy Land home, but there is little as striking as the Jerusalem skyline once one has seen it. Using this cup, whether for Kiddush or some other purpose, surely brings dignity and honor to the cup's contents, the user, and the event it honors.