Israel365 gave a warm "Shalom" and welcome home to a number of Olim (new immigrants) who landed at Ben Gurion airport as part of the Nefesh B'Nefesh August flight, including their 50,000th newcomer.
Thanks to the generosity of Israel365 readers who participated in our "Aliyah Campaign", Rabbi Tuly Weisz presented gift bags to a number of the new immigrants which included a Mezuzah for their new homes in Israel, "The Israel Bible" and envelopes of Israeli shekels to get them started.
Here are some photos from the wonderful event: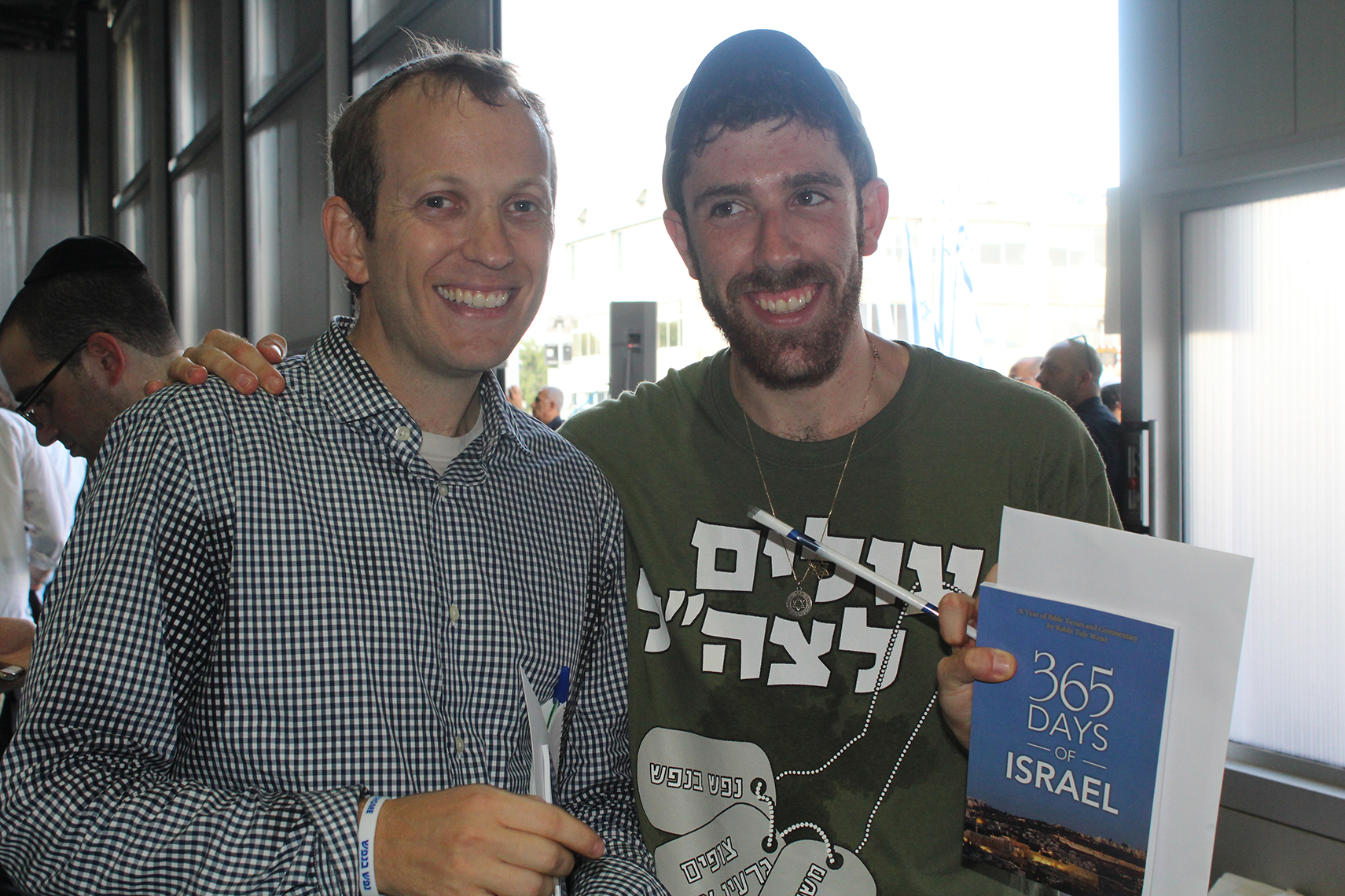 May God protect Jordan Katrinsky, originally from Denver, Colorado who will be joining the IDF as a lone soldier! Jordan, 22, just graduated Dartmouth College in June and will be staying at a Kibbutz 5 km from the Gaza border. "People say that Israel isn't perfect, but after 2,000 years of waiting for it, am I going to tell God that I am going to wait till it's perfect? I am going to help make it perfect!" Kol Hakavod Jordan, you are a true hero!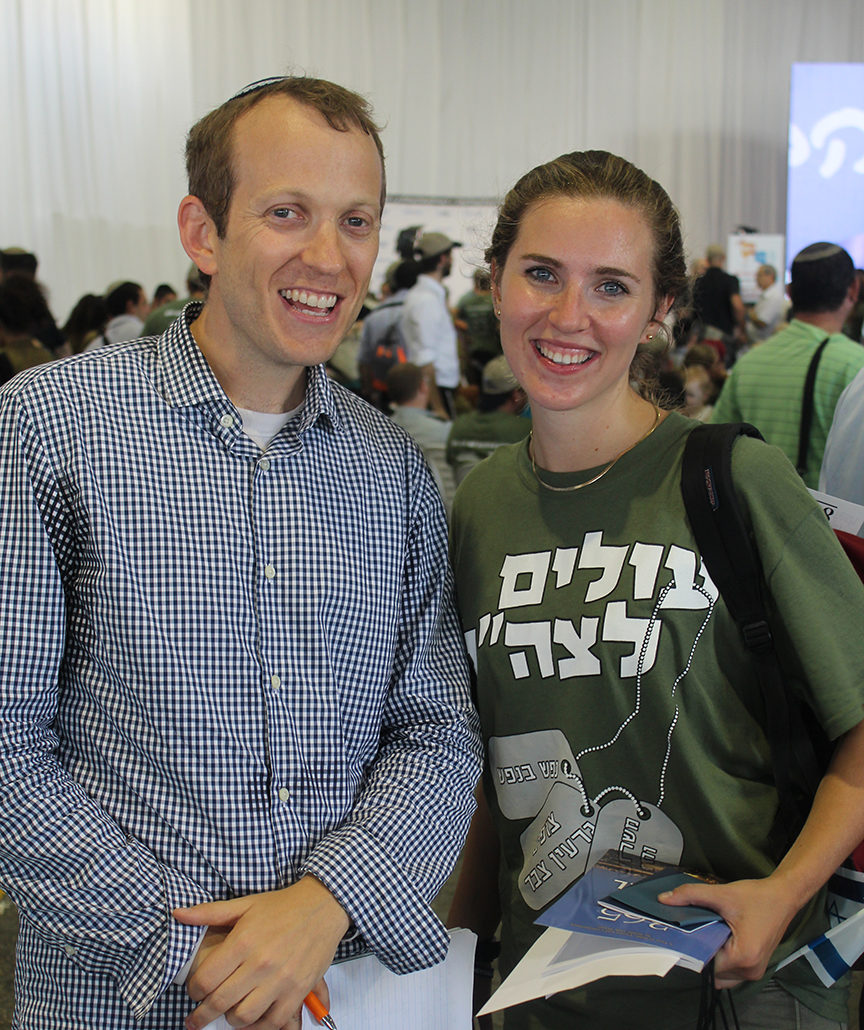 Mazal Tov to Rebecca Glanzer from Brooklyn, NY – the 50,000th new arrival! "This is so special, I can't believe it's actually happening" said Rebecca. "I want to thank all the Jews and non Jews who made this day so special." Rebecca just graduated Columbia University in NYC and we wish Rebecca well as she joins the IDF as a Lone Soldier.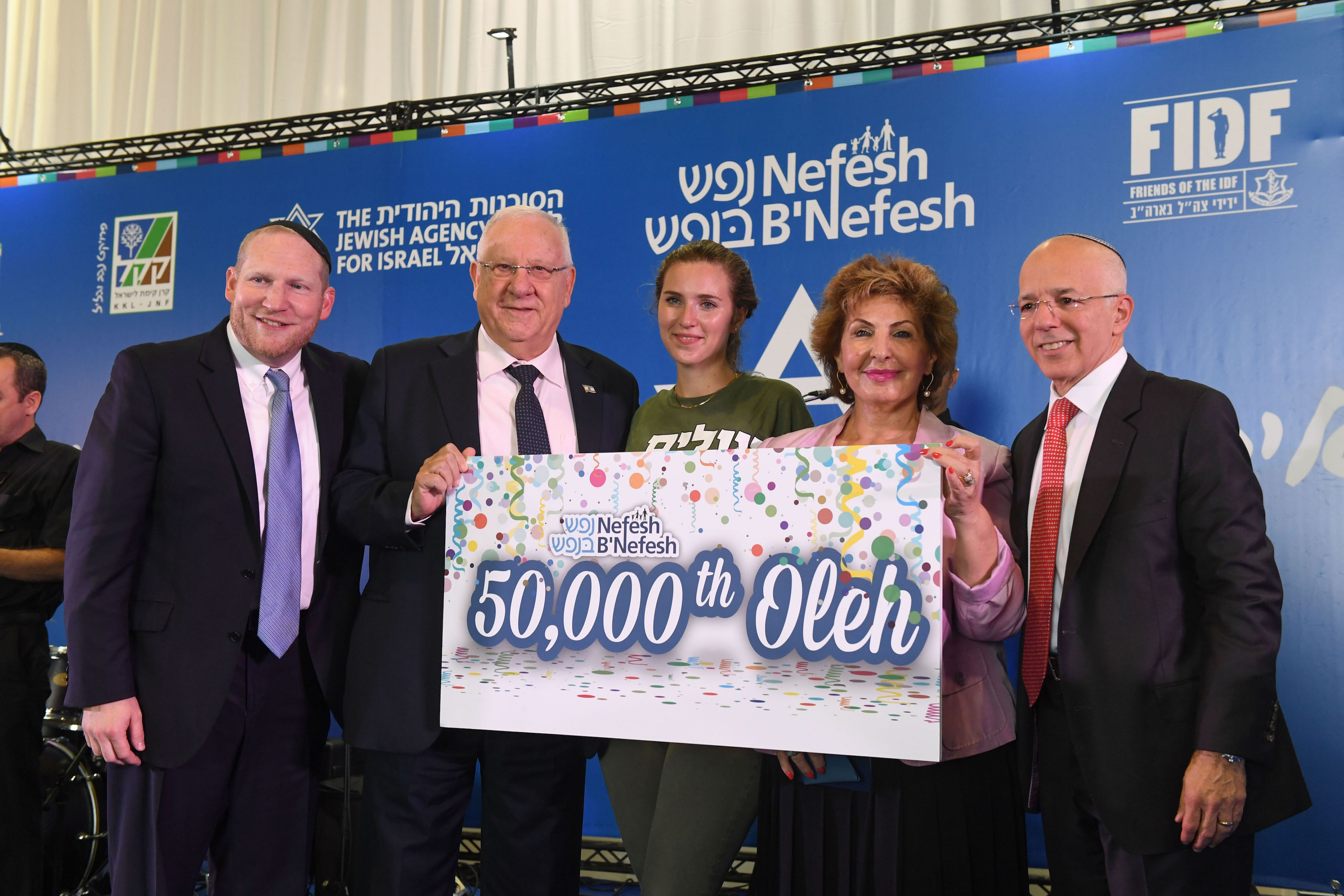 Here is a picture of Rebecca with Executive Director of Nefesh B'Nefesh, Rabbi Yehoshua Fass; President of Israel, Reuven Rivlin; Minister of Aliyah and Immigrant Absorption, Sofa Landver; and Tony Gelbart, Founder of Nefesh B'Nefesh (from left to right). Photo courtesy of Nefesh B'Nefesh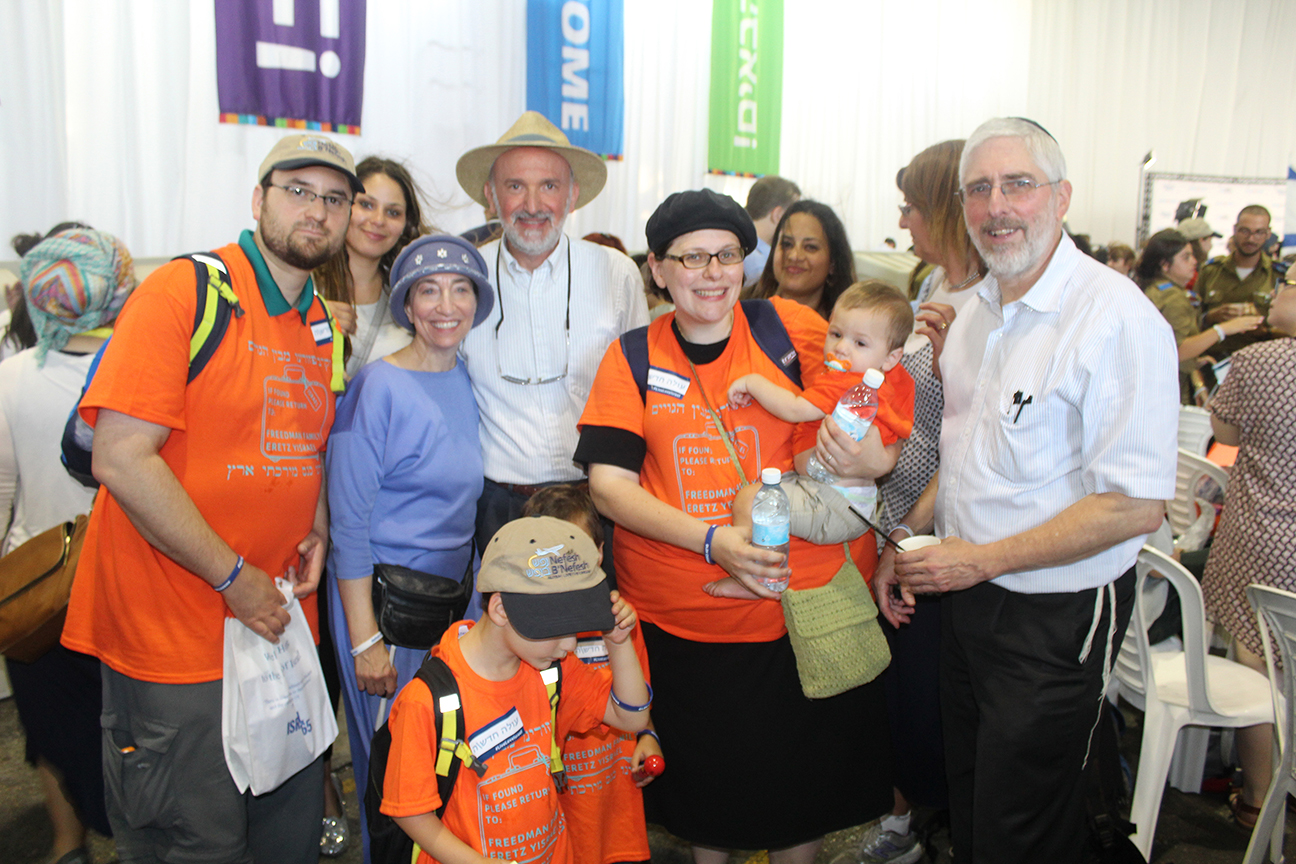 Welcome Home to Elissa and Yonatan Freedman, Hillel (11 months), Lior (4) and Matan (3) who just moved from West Hartford, Connecticut! Upon seeing the new Mezuzah presented by Israel365, Yonatan said, "Last night when I took off my Mezuzot in West Hartford, I felt like they were jumping off the doorpost as if to say, we have been here long enough – take us to Israel! And now we have a new Mezuzah to put on our door in Beersheva, the same city where Abraham pitched his tent!"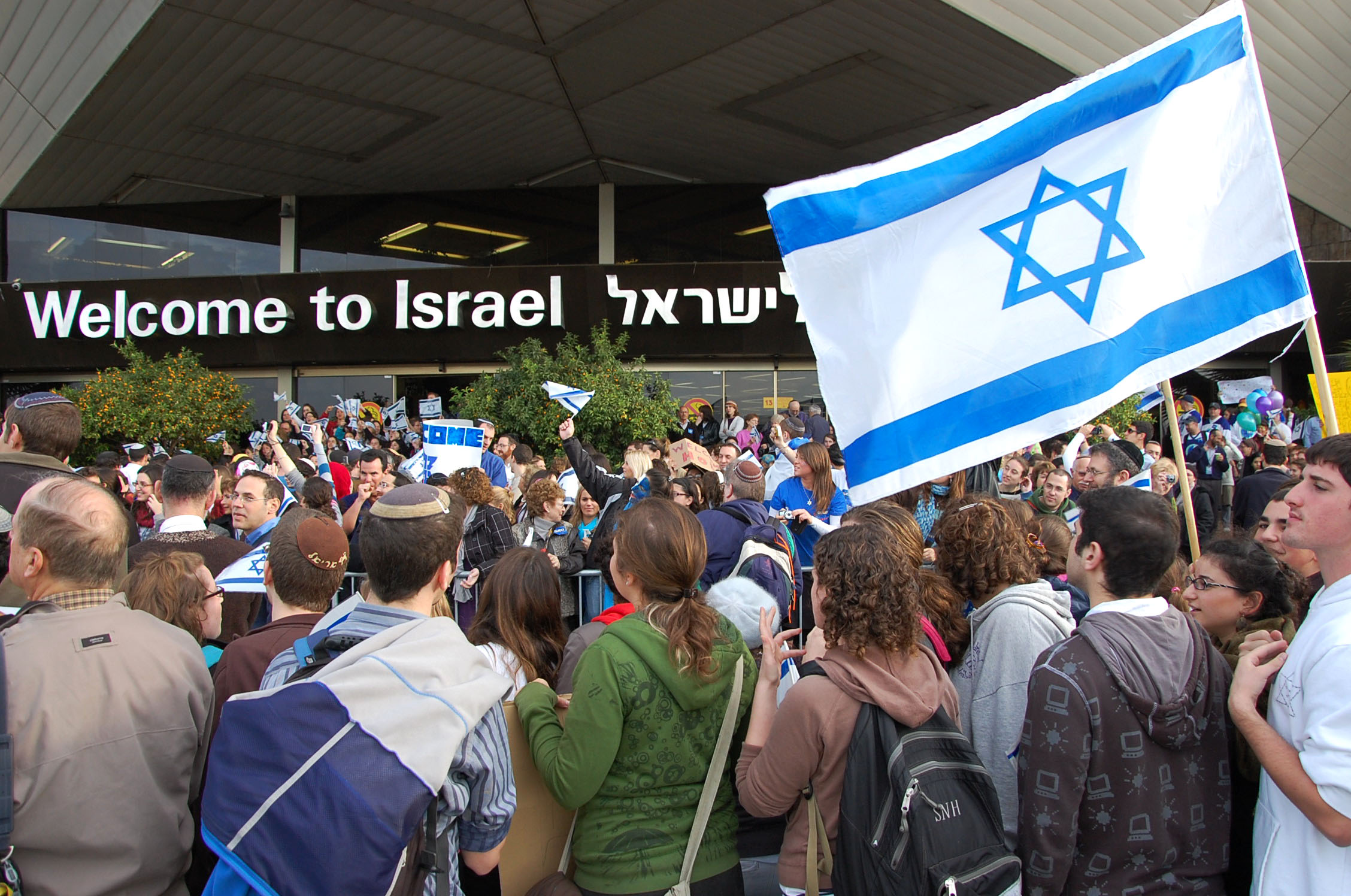 New Olim arrive to Israel as Nefesh B'Nefesh, friends, and family welcome them home. Photo by Rachael Cerrotti/FLASH90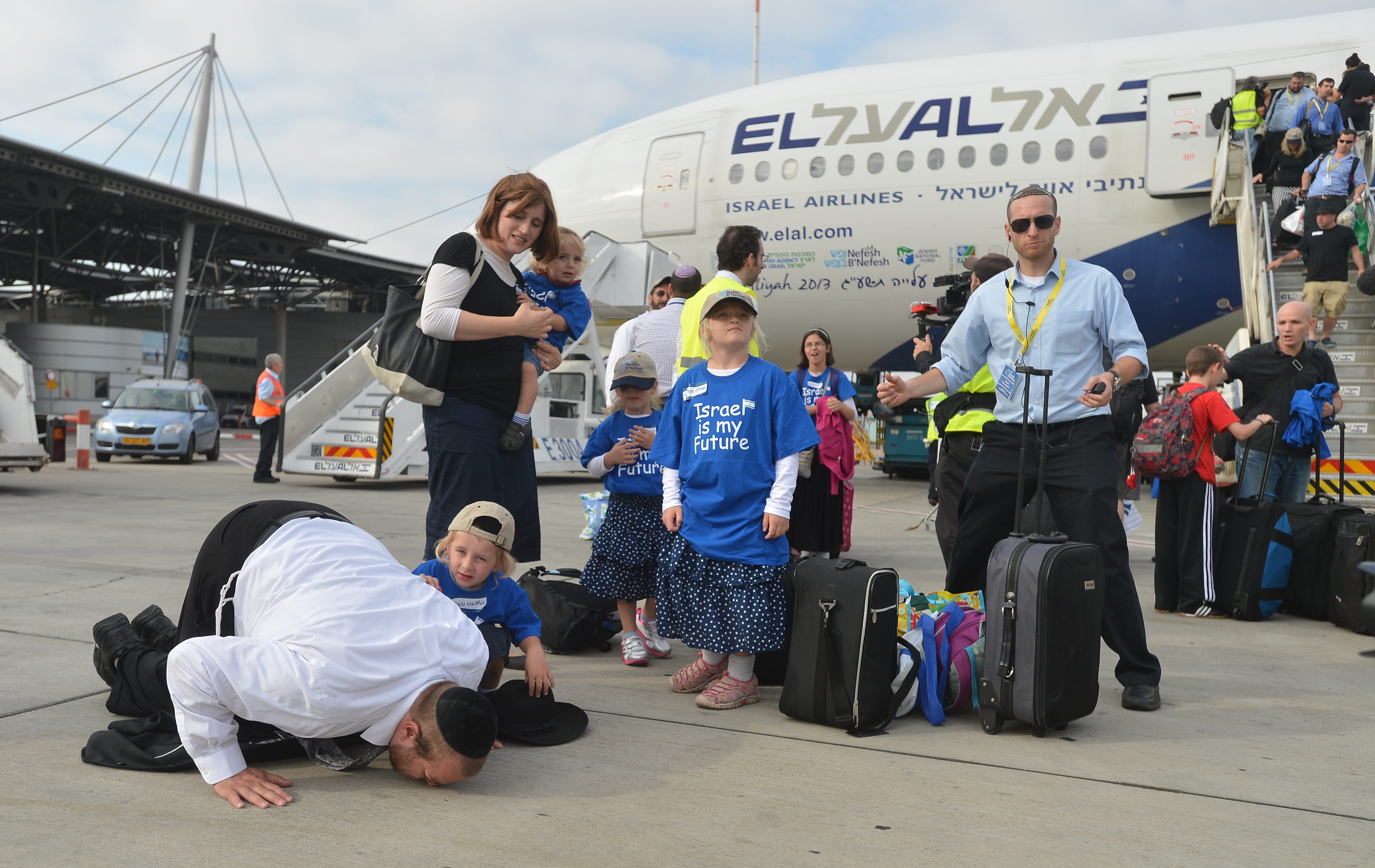 Many Jews have the custom of showing how precious the Land of Israel is by kissing the ground when they arrive here and here is a photo of an Orthodox Jew showing his incredible love for Eretz Yisrael as soon as he got off the El Al airplane. Photo by Yossi Zeliger/ Flash90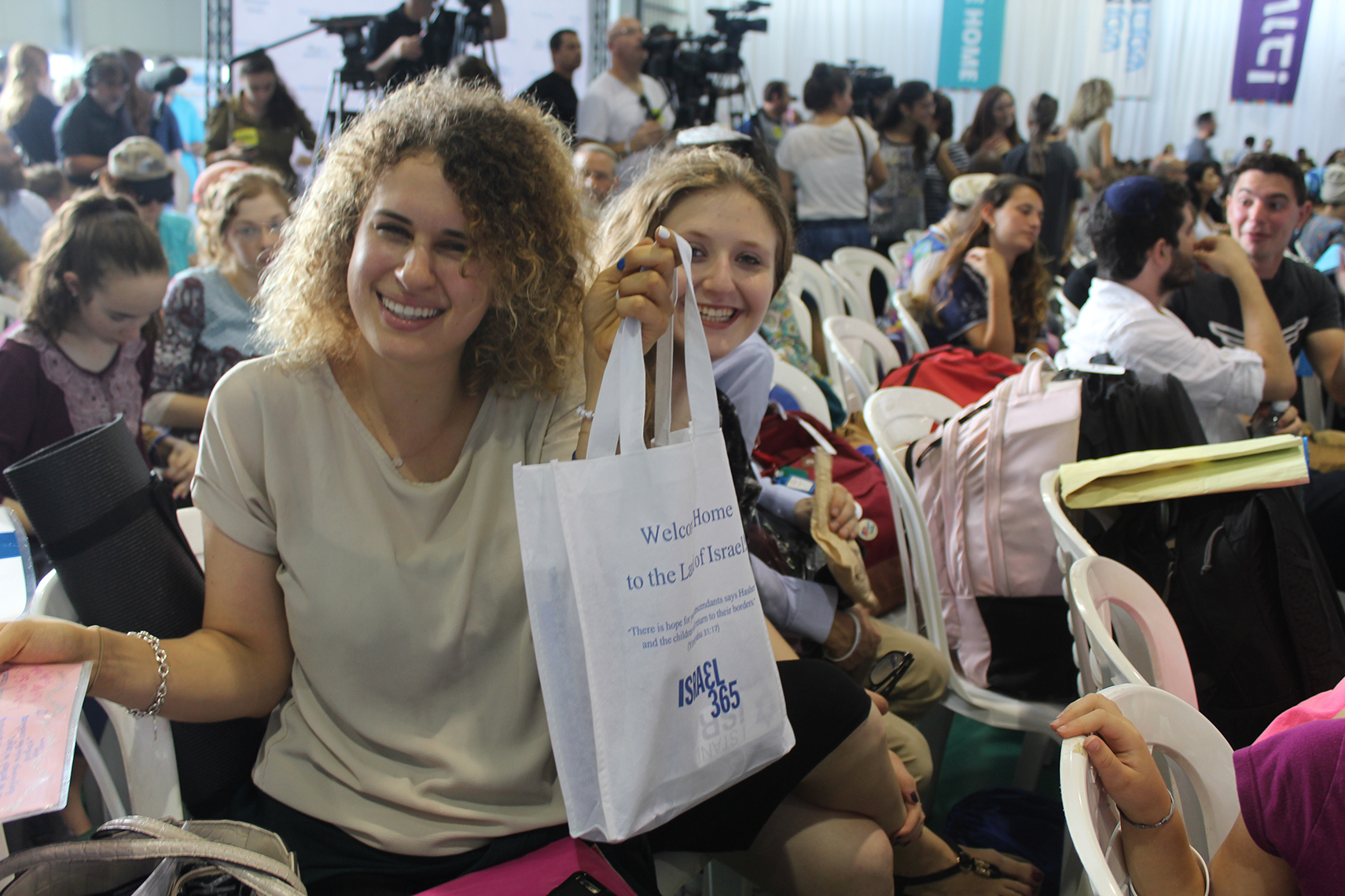 Good luck to you Dina Osherovitz from Monsey, NY who will be moving to JERUSALEM and starting her studies at Hebrew University! Dina was one of 233 new Olim to begin her new life in Israel and was welcomed by Minister of Aliyah and Immigrant Absorption Sofa Landver who said, "The State of Israel salutes the young people who chose to leave their comfortable lives in North America in order to make the greatest contribution to the country's national security and its people."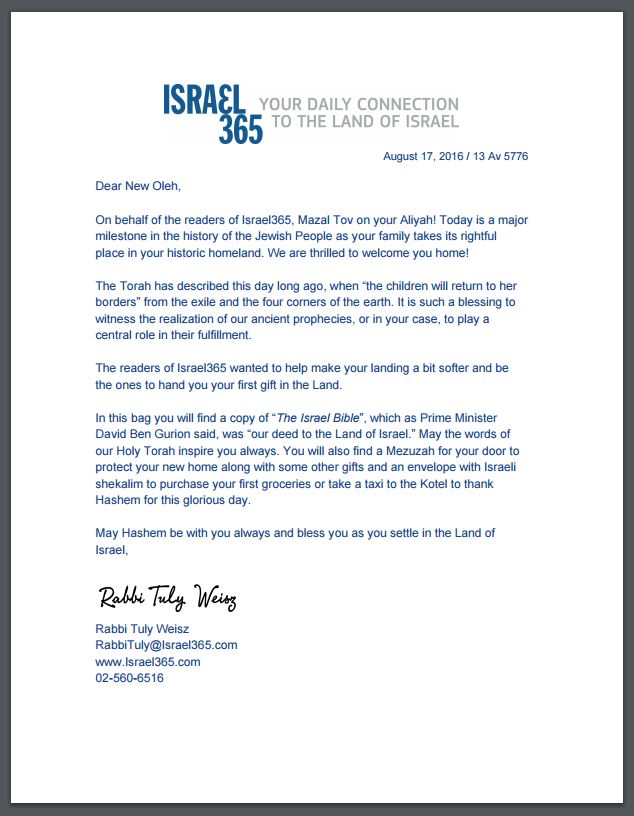 This letter was included in the gift bags presented by Israel365 to new olim.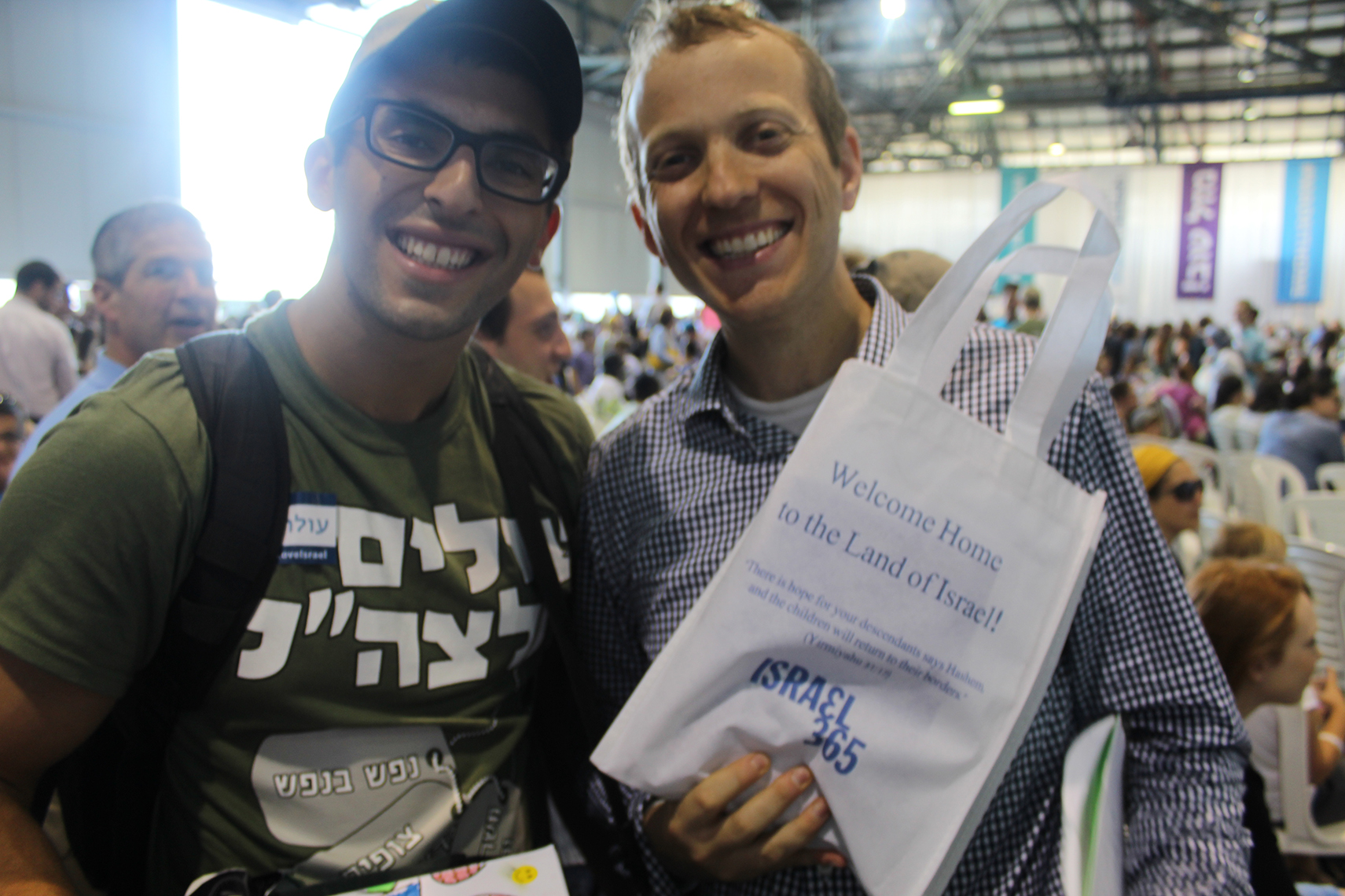 Jacob Rosh Gadol from Baltimore, Maryland just graduated the University of Maryland with a degree in Mechanical Engineering and will be joining the IDF Rapat Unit of Tank Design "so that I can put my college education to use in defending my people" Jacob said to Rabbi Tuly Weisz.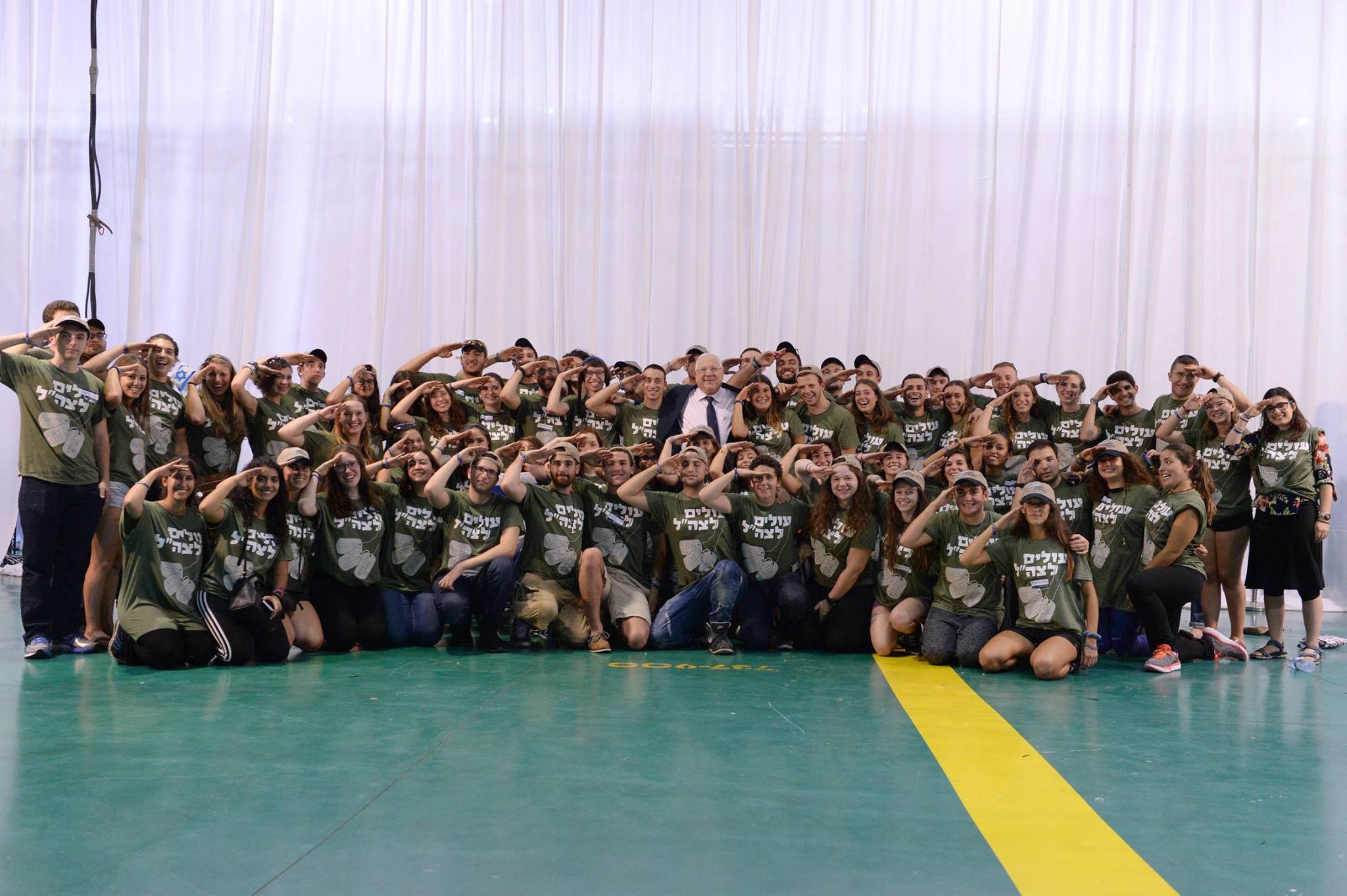 Jacob was one of 75 future Israeli soldiers who made Aliyah on the Nefesh B'Nefesh August charter flight and who are pictured here with Israeli President Reuven Rivlin.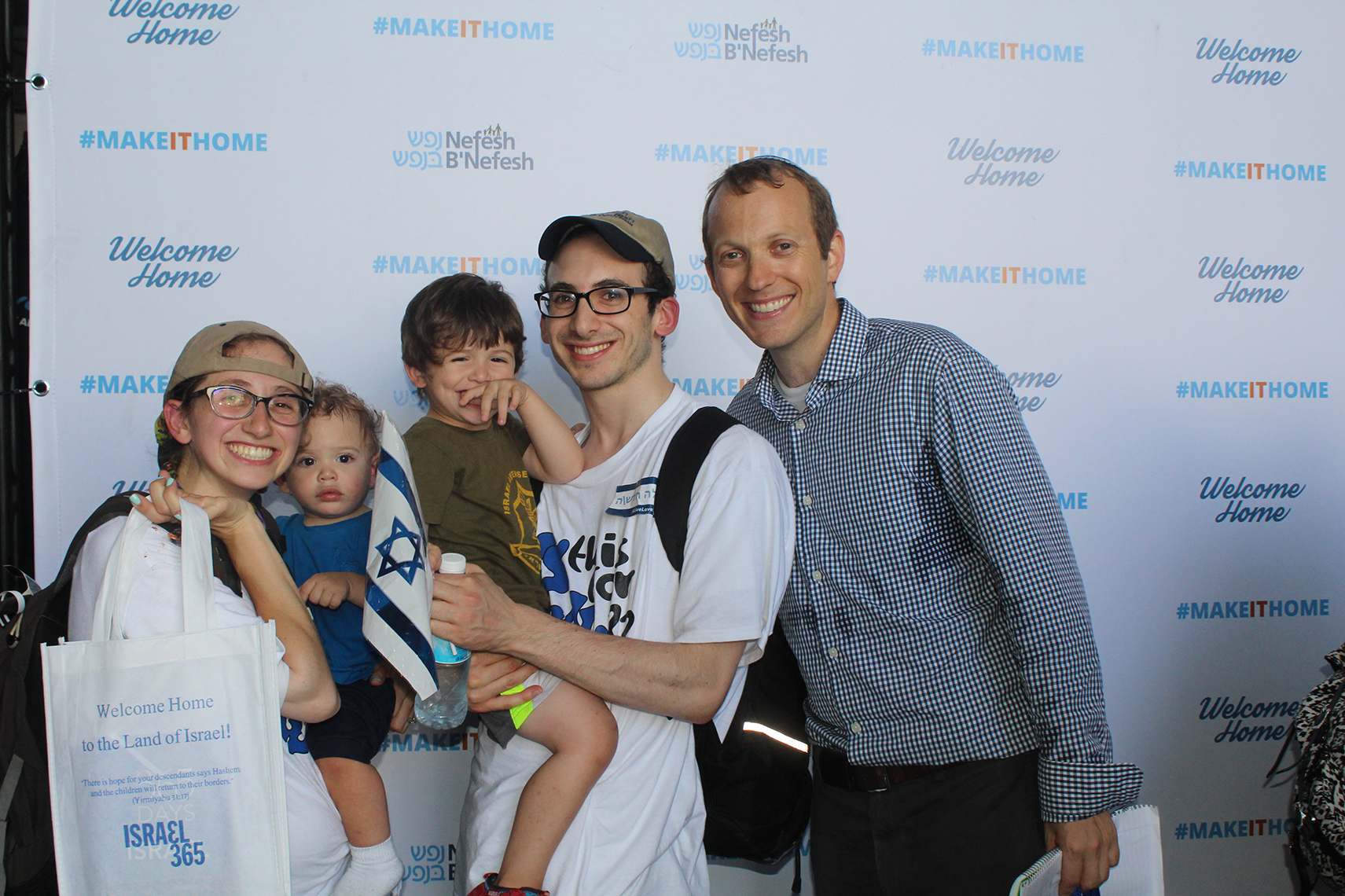 Israel needs more young families like Zach and Atara Bienenfeld! Atara will be a stay at home mom in their new home in Raanana taking care of Shalom (3) and Asher (1) while Zach will be working for Amazon at their high tech R&D center in Herziliya. We wish you much success and hope that Zach can help bring Amazon to Israel!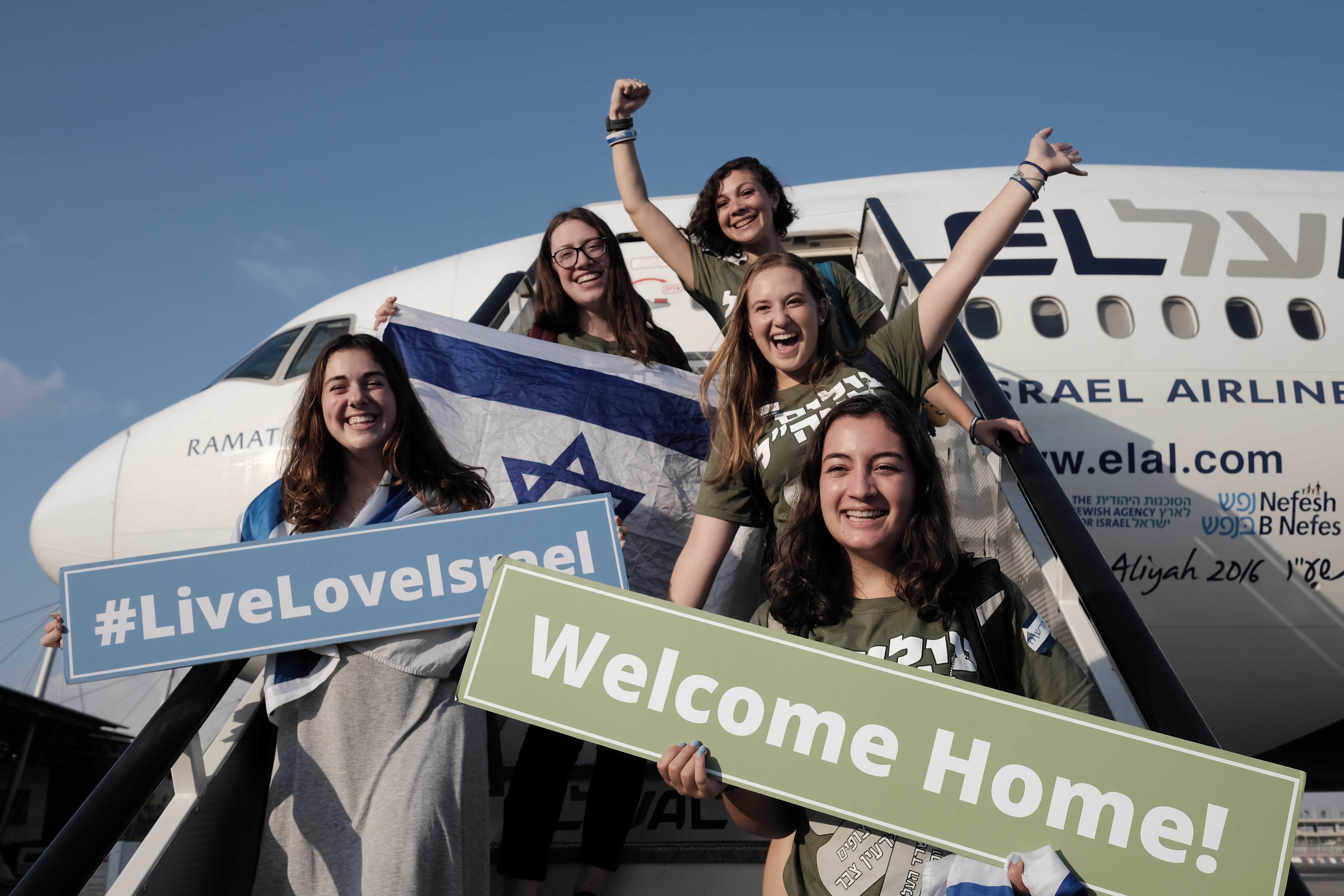 New immigrants from USA and Canada arrive on a special flight chartered by Nefesh B'Nefesh at Ben Gurion airport on August 17, 2016, Nefesh B'Nefesh has brought 50,000 Olim home to Israel in the 14 years since they started and are especially proud of the 6,300 soldiers that have come home. Photo by Tomer Neuberg/Flash90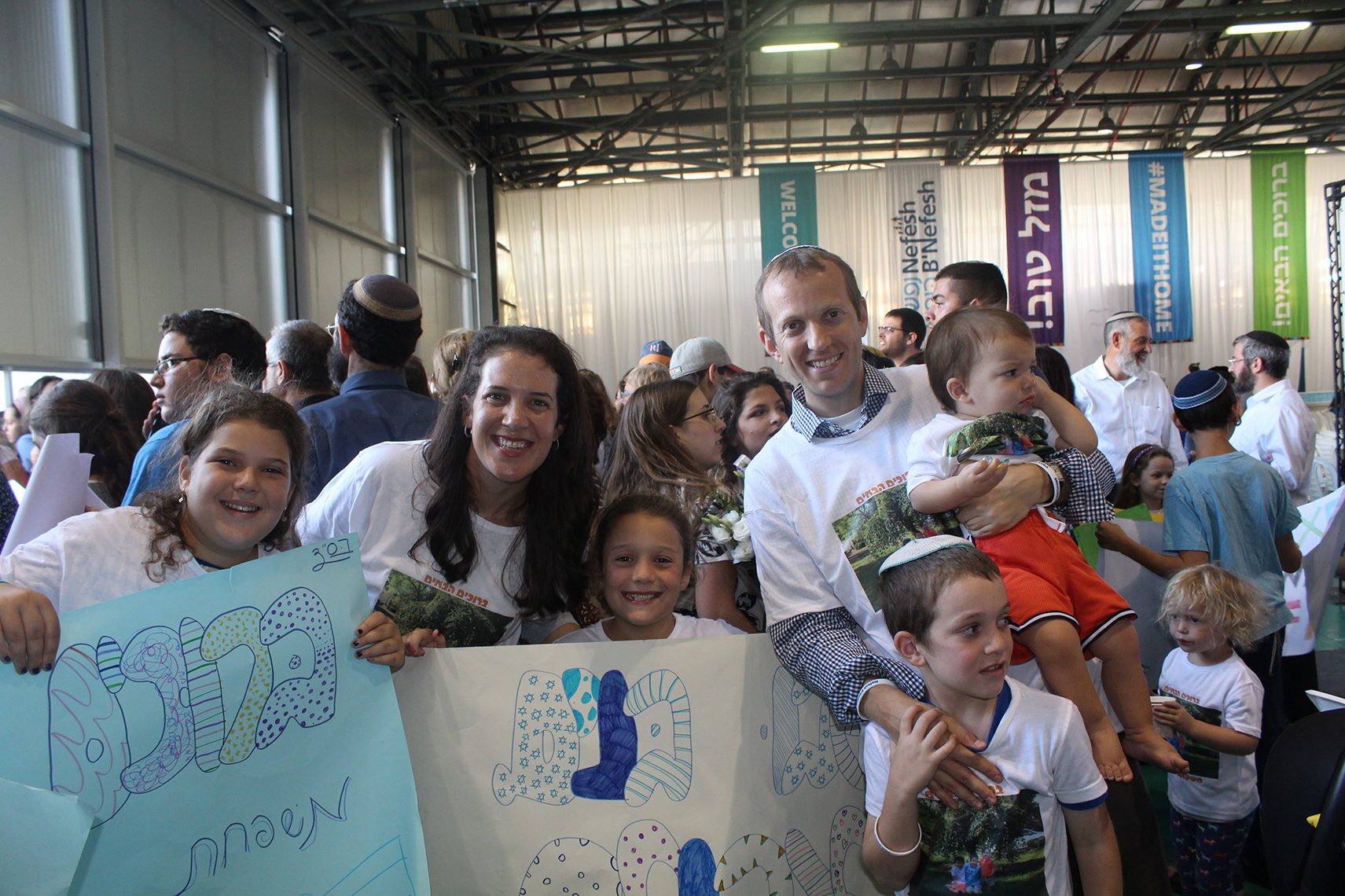 Rabbi Tuly Weisz and family anxiously awaiting the new Olim to welcome them home to Israel.