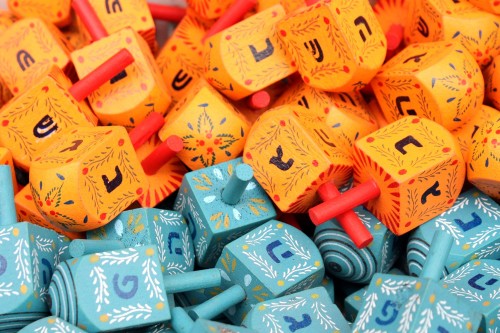 During the festive season it's easy to get caught up with all the hyper-commercialism and forget the true meaning of the holidays.
Hanukkah commemorates the rededication of the Temple after the Maccabees' victory over the Greeks. The Greeks had ransacked the Jews' most sacred place and filled it with idols and frivolity.
The Temple was mainly used to perform Korbanot (sacrificial offerings), a way to give thanks to God. Today, though we only have remnants of the temple, we use prayer in place of animal offerings.
Every  year, Thanksgiving and Christmas occur around the same time as the festival of lights, a time when the freedom to practice religion was restored. If the holidays have anything in common, it is their messages of gratitude and a reaffirmation of faith.

Bring meaning to your holiday gift-giving by supporting an Israeli artist and choosing from our diverse collection of Judaica, music, art, books and more. From Black Friday to Cyber Monday every product on Israel365's store is 33% off.
Here's a list of some our most popular items by our most treasured artists.
Harry Moskoff. Originally from Canada, Harry Moskoff now resides in Ramat Beit Shemesh, an extension of the ancient city of Beit Shemesh. Former research analyst and Trademark agent turned Jewish Indiana Jones, Moskoff, spurred on by a passion for ancient Jewish history, explores Biblical sites in his thought-provoking book, The A.R.K. Report. Using both religious and secular sources, Moskoff  investigates the connection between lost Jewish artifacts and the shaping of the modern state of Israel. Journey through the pages of this book and discover the secrets of the Jerusalem tunnels.
Sarah Feld. Sarah Feld hales from New Jersey, but left the Garden State to move to the scenic city of Beit El. A city nestled in the northern Jerusalem hills, it is where Jacob dreamt of the angels ascending the ladder to heaven. Feld is a cherished childbirth educator, doula, writer, poet and artist. Her creations are inspired by her immense love for the Land of Israel. Her pendants combine images of peace and love with the map of modern Israel. Her designs are lovingly shaped with holy intentions, but have practical uses as well.  Peruse her striking designs!
Ellen Miller-Braun :

Ellen lives in Samaria,  the heartland of Israel. She moved there in 1983, drawn by her love of the land and words of the Bible. She channeled that into her artwork, which requires devotion and a steady hand. Braun creates artwork through micro calligraphy, a

picture completed entirely with words. Pulling verses from classical Jewish texts, Braun uses tiny letters and words and blends them together to form the designs and figures on paper. Check out her portfolio! 

Yerachmiel Ziegler: Yerachmiel Ziegler lives in the Holy city of Jerusalem. From childhood, he has performed in the Jewish music scene. His music mixes elements of the hasidic and contemporary styles. His songs are inspired by Jewish traditions and the beauty of Israel.

ADI Watches: ADI Watches is the name of a company which is located in Kibbutz Yavneh. One of the only watch manufacturers in Israel, they created a product specifically for IDF soldiers. The watches are extra durable and elegantly designed. The brave soldiers of the IDF need excellent products that are both reliable and affordable. ADI offers a diving watch, and specialized watches with Hebrew lettering.  
Joshua and Caleb Waller:

Joshua and Caleb Waller are part of the dynamic family which founded the organization

Hayovel

(Jubilee), which supports independent farmers in Judea and Samaria. The Wallers left the U.S. and have made their home in Har Brachah.  Brothers Joshua and Caleb have produced a 2-DVD documentary, The Joshua and Caleb Report, in which they travel Jerusalem, Judea and Samaria, interviewing earnest and loyal inhabitants of the area. In hopes of giving the region a better reputation than it currently has in the news, the brothers showcase the heartwarming and inspiring stories of those who dwell in Judea and Samaria out of love for its biblical past.
Rabbi Avraham Arieh Trugman:

Rabbi Trugman and his wife left the U.S behind and founded  Moshav Meor Modiim in 1976. He served as director of the moshav's Center for Jewish Education, and has published several books and poems. In his book

The Mystical Meaning of Dreams,

Rabbi Trugman explores the meaning of dreams and prophecy in the Bible.

Avraham Borshevsky:

Avraham Borshevsky is an international name in calligraphy and a world renowned scribe. He lives in Jerusalem, where he renders sacred texts to parchment using Jewish traditional art forms while ensuring Halachic (Jewish legal) standards are kept. His artwork has been featured in private collections in over 40 countries. He does profoundly holy work, and also offers beautifully illuminated scrolls for use on holidays.
Yehudah Glick: Rabbi Yehudah Glick founded the Temple Mount Heritage Foundation, which fights for every religion's freedom to worship on the Temple Mount. From his home in Otniel, he travels to the Old City to give tours at the Temple Mount, and be physically close to the holiest site in history. After surviving a brutal shooting last year, he continues to work tirelessly to educate people about the Temple Mount. In the role of editor, he has compiled the book Arise and Ascend: A Guide to the Temple Mount,

which includes photos and text descriptions, in hopes of helping visitors enjoy a more meaningful and spiritually-uplifting experience.